MyAir is our premium smart home
air-conditioning system.
Whatever your idea of comfort is, MyAir smart air-conditioning lets you control the airflow to any room, from anywhere. MyAir is compatible with Google Home and Alexa, giving you even more choice over how you control your air-con system.
What's more, once you have the MyAir platform, MyPlace can easily be added to further enhance the connected home by working with existing products such as lights, fans, blinds, garage doors and more. MyAir is the only Advantage Air control system that will integrate with MyPlace to further enhance your smart home control.
Select below to find out more about MyAir's features.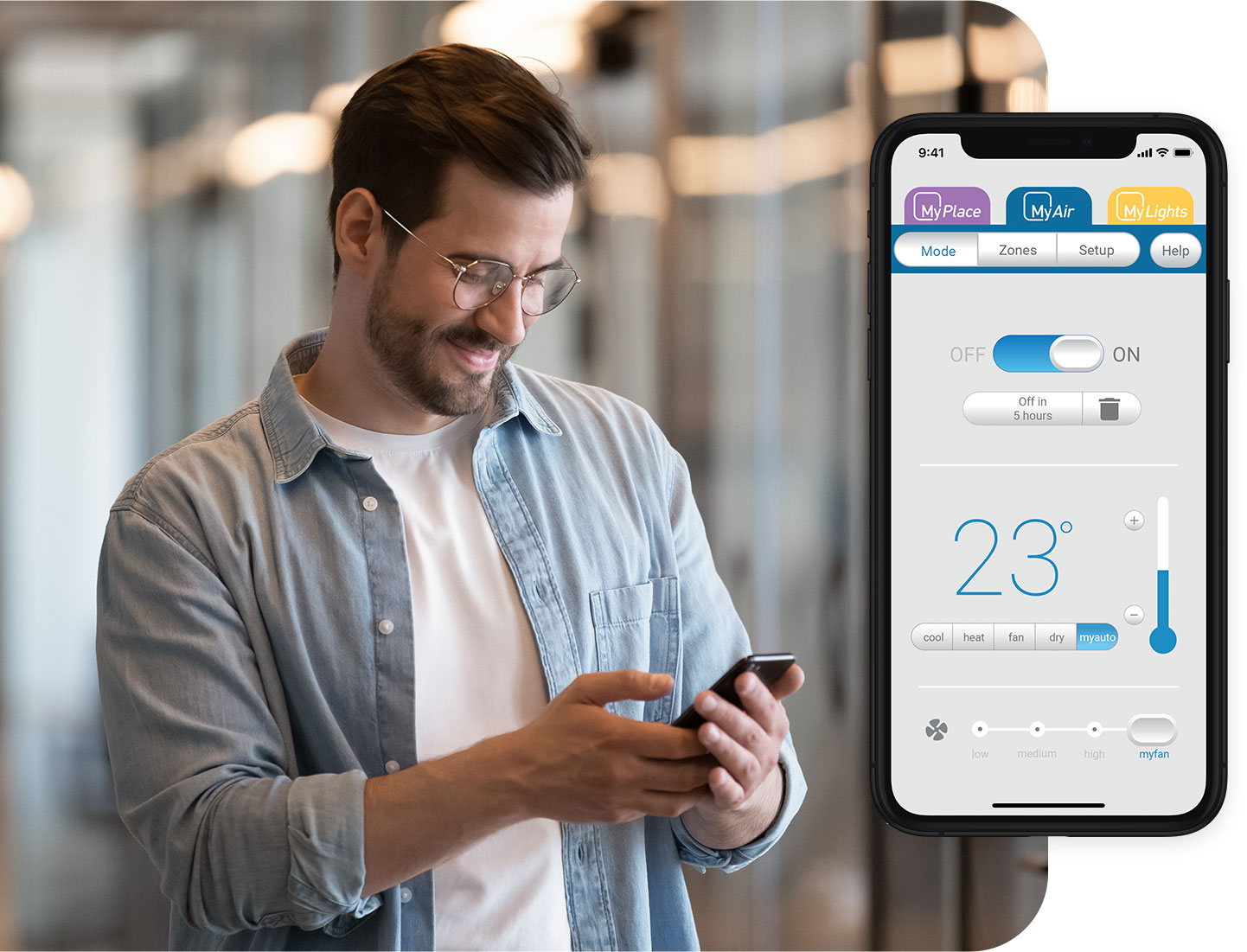 The app for additional control.
The app transforms your smartphone or tablet into a remote control, so you can control the system from anywhere with Internet connection. Turn MyAir on before you leave work and always come home to comfort. Adjust the airflow without getting off the couch. Or put your mind at rest and check that you really did turn the air-con off before going on holiday. See our list of compatible phones and devices here.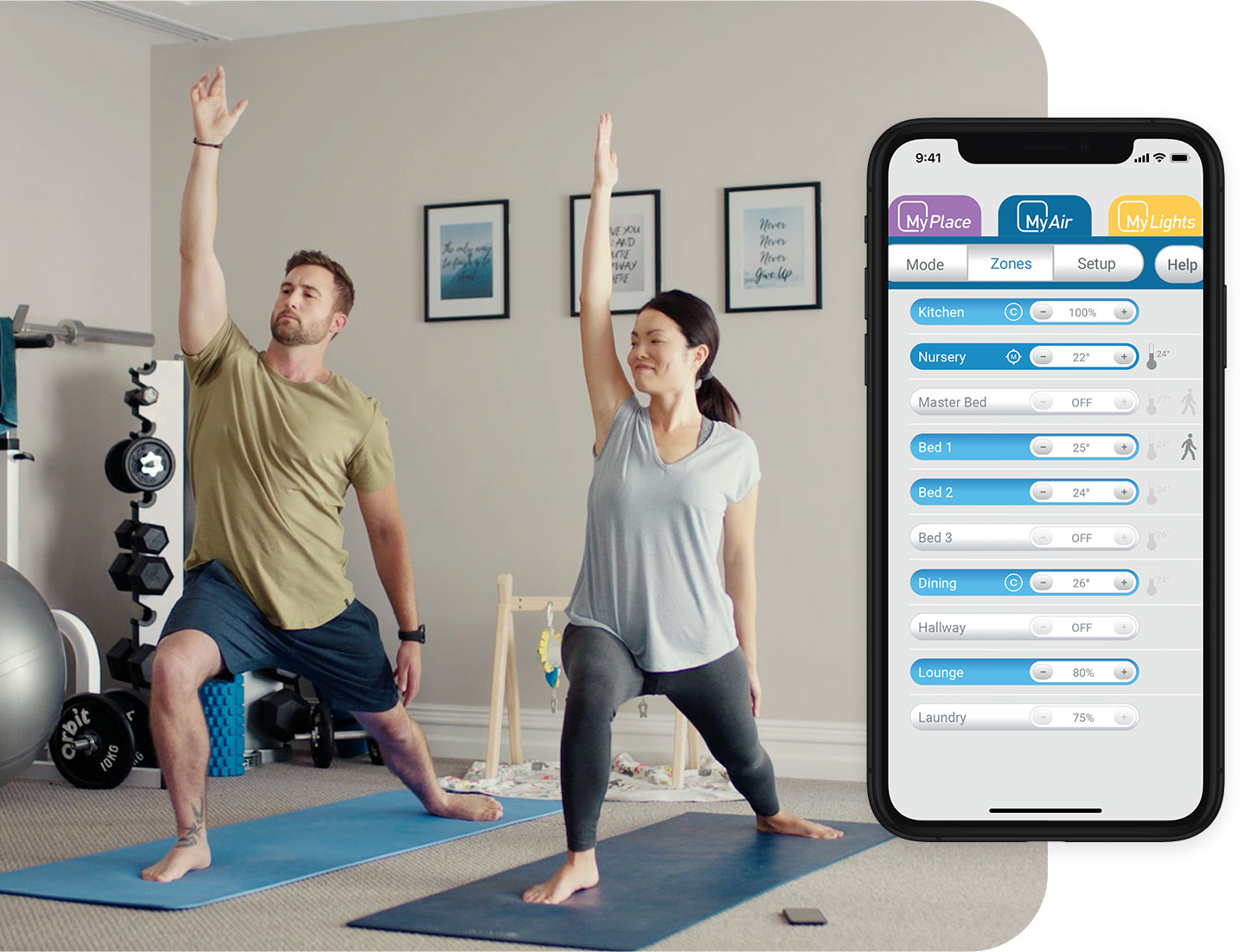 More zones equal more control.
With up to 10 zones, MyAir allows each room in your home to be zoned individually, so you can have your room your way and save on energy bills. You're in complete control of which rooms receive conditioned air – and how much. Increase the airflow in the gym, while the nursery stays perfect for napping. Turn it up in warmer or upstairs rooms, without freezing out the rest of the family. With MyAir, you can save energy and still stay comfortable by only running the system in the room you're using.
More precise airflow for perfect comfort.
The MyAir difference is in the dampers. At the heart of the airflow management system is Advantage Air's Exact Air Regulator (EAR). It uses advanced technology that enables you to adjust the airflow to any room in 5% increments. The Exact Air Regulator rewards you with smoother, quieter, more even airflow.
MyAir touchscreen.
The MyAir colour touchscreen is designed to be a complete home hub. In addition to controlling your ducted air conditioning system, it is also an Android tablet. With a touch of the Android icon you can keep track of the family's calendar, stay in touch with loved ones, play music and so much more … all from a centrally located hub that is permanently powered and wall mounted so it never goes missing.
The option to add MyPlace.
Why not enhance your connected home by adding MyPlace, the smart home system that turns your existing lights, garage door, fans and more into smart home products. MyAir and MyPlace work off the same touchscreen and app, so you can easily and affordably add on smart control of other useful products in your home to complement your MyAir system. MyPlace is simple to install and can easily be added at any time.
Every room is zoned individually.
Imagine you want to run the aircon only in the living area. That's no problem for MyAir, where rooms are zoned individually. With limited zone systems however, rooms are grouped together. See how many rooms you'll pay to air-condition with different zone systems.
How to get MyAir in your place.
Choose from the options below.
New home build
Learn More
New home build
To ensure your new home comes with MyAir:
Insist on MyAir with your builder before signing a contract
Contact one of our MyAir specialists here
Speak to a MyAir expert
Existing home
To install MyAir in your existing home:
Find your local MyAir installer here
Speak to a MyAir expert
Contact an expert
Learn more
Contact
WA – Osborne Park
Phone: +618 6253 0150
391 Scarborough Beach Road
WA – Canning Vale
Phone: +618 6253 0100
115 Vulcan Road
QLD – Eagle Farm
Phone: +617 3623 2600
359 Fison Avenue East
NSW – Castle Hill
Phone: +612 9030 0030
7/10 Anella Avenue
Option to add temperature sensors.
The orientation of a room impacts its temperature, rooms facing the afternoon sun and upstairs rooms bearing the brunt of the afternoon sun. An Individual Temperature Control (ITC) sensor will instruct the system to continually adjust the airflow to maintain your selected temperature. As an added bonus, they save energy by preventing over air-conditioning. They can be installed at any time.
Upgrade to motion sensors.
To help you save even more energy, MyAir comes with the option to add motion sensors in the rooms of your choice. The sensor detects if a room has been empty for 10 minutes, and automatically adjusts the target temperature by + or – 1 degree. If no motion is detected for another 10 minutes, the temperature is adjusted by a further + or – 1 degree. This small adjustment is enough to reduce the room's energy usage by up to 20%. When you re-enter the room, your original target temperature is restored.
The Advantage of Australian made.
MyAir is designed and made in Western Australia, by Advantage Air. We are a proudly Australian technology company, committed to producing quality products and providing exceptional service. Our friendly MyTeam will even come and give you a free in-home demonstration and handover, to ensure you get the most out of your MyAir. And if you need aftersales support, we're based locally and right here waiting to help.