Wattle Grove Air
Wattle Grove Air provides comfort solutions in the form of ducted, split, and multi-head air conditioners for all residential homes across Sydney. Located in Moorebank Sydney, Wattle Grove Air is a licensed and experienced company specialising in the supply and installation of air conditioning systems across the Sydney region. Wattle Grove Air strive to incorporate the latest work practices and professional standards and provide a quality service you can rely on.
Wattle Grove Air was established in 2009 by Dean Russell as a small family run business. Over the years the company has successfully grown in all aspects; increase in staff, increase in years of industry experience and reputation within the air conditioning industry. Dean and his handpicked team provide a real 'no-bull' approach to their service, supplying quality units and friendly advice to help you choose the right residential air conditioning system for your home.
Air Conditioning Brands & Partners
Wattle Grove Air is a proud platinum dealer for Actron Air and a highly recommended dealer for Fujitsu Air-Conditioning. Fujitsu and Actron Air offer the most technologically advanced, reliable and energy efficient models of split and ducted air conditioning systems within Australia. We recommend these two brands, as they both offer a wide range of units to suit all preferences, spaces, lifestyles and climates. Wattle Grove Air works in partnership with MyAir, a smart air conditioning management control system.
Wattle Grove Air is an industry leader in customer service, quality workmanship and system performance in Sydney. The difference with the Wattle Grove Air team is their aim to always provide free, honest and expert advice whilst keeping in mind customer needs and budget. From start to finish, customer service plays a major role in all jobs carried out by Wattle Grove Air. When arranging Wattle Grove Air to install an air conditioning system, there is a lot of time and effort put into the quotation, making sure everything is suited to the customers' requests.
MyAir Installation with Wattle Grove Air
If you are interested in MyAir for your home, quote bookings can be made via a phone call to the Wattle Grove Air office or an email through our website. Once a quote appointment has been arranged, an experienced salesperson will attend the site to provide their advice and recommendations regarding how MyAir will work in your home.
Following this visit, the quote is then emailed within 24 hours and details all aspects of the system, location, equipment used and warranty terms and conditions. If the customer would like, Wattle Grove Air have a display showroom equipped with fully functioning systems and parts, setting the company aside from others. Our showroom allows customers to come in and test out each system available and inspect all design aesthetics to get an exact idea for what they are after.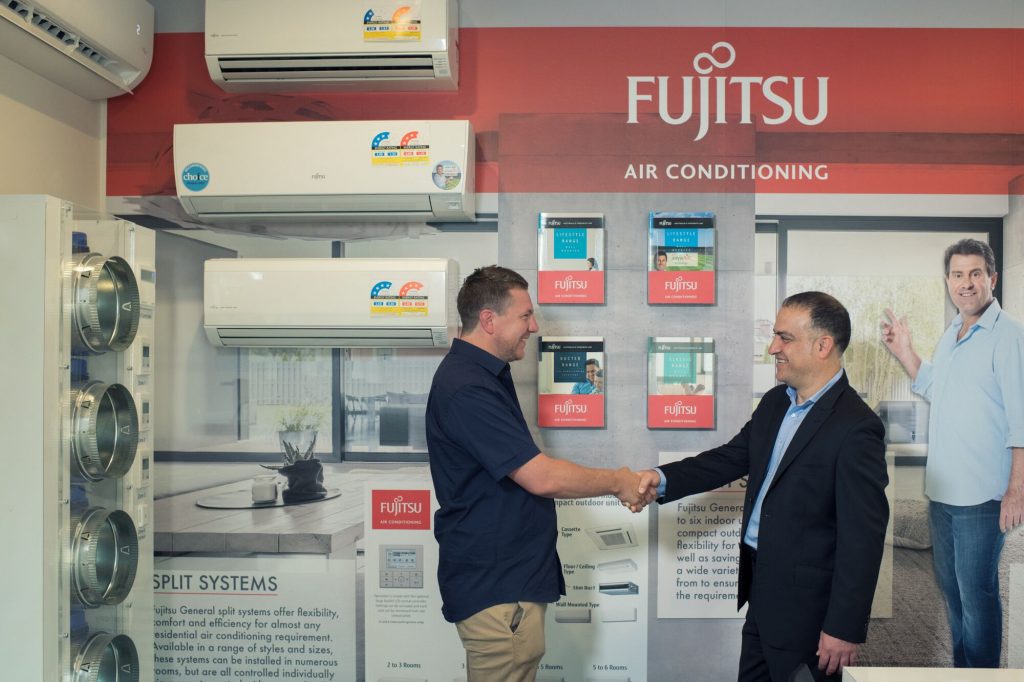 Once the quote has been accepted, an installation date will be booked for a day and time that is convenient for the customer. The day before the installation is to take place, our friendly office staff will call the customer to remind them of the booking and arrival time of the installers.
Installation work is carried out by experienced qualified tradesmen and highly skilled apprentices. All locations and exact details are confirmed by the installers onsite to confirm that the customer is getting exactly what they are after.
Before leaving, our installers take the time to confirm that the customer is satisfied with the works completed and runs through the system operations and controller use.
Wattle Grove Air can service Sydney and all surrounding regions, in particular, South-West and Western Sydney. To find out more about the team or to get in contact regarding air conditioning installation, please call the office on 0291195944. Alternatively, you can check out the website and ask all questions via the enquiry form available.