Transform your home into a smart home with MyPlace.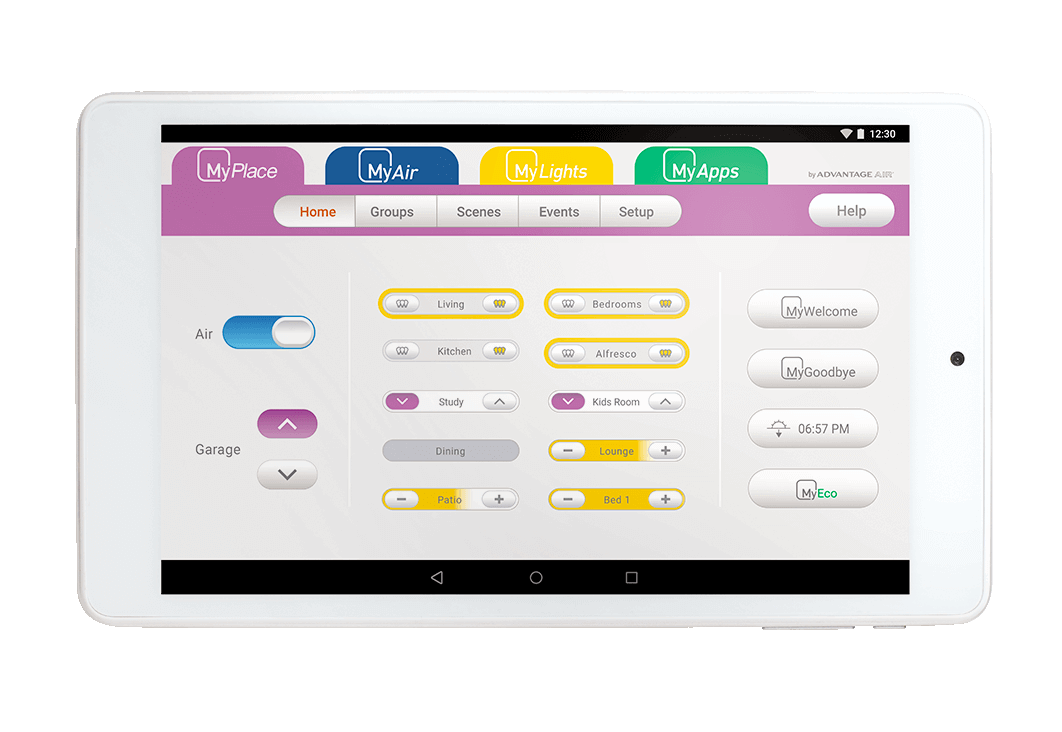 Simplify your home with a system that turns your ordinary products into smart products.
Never leave your garage door open again.
MyGarage cures the nagging doubt about whether you closed the garage door. It sends a notification to your phone if it is open and enables you to control up to two garage doors from anywhere, using the app. A simple add-on to your MyAir or MyPlace system, it also integrates with smart home products such as Google Home or Alexa.
There are two ways to include MyGarage. Ask our friendly team about the best option for your home automation.
MyMonitor senses changes in motion, temperature and light.
With the ability to set up to 20 events, MyMonitor's uses are only limited by your imagination. Set it to send a notification to your phone when the kids get home from school, or the kidults get in at night. Know when the cleaner arrives – and leaves; if the garage door is open; or if there's an intruder and which room they're in.
Add it to MyAir or MyPlace to expand your connected home, no special home automation programming needed.
Control all your lights with the touch of a button.
You feel safer when you can see. With MyLights, you can turn on your smart lights before you get home, so you'll never trip over that wobbly paver again. Set a scene so it looks like you are at home, no matter how long the holiday.
With a dimmer function on your smart lights, you can set the mood for little ones to sleep, bigger ones to snuggle in for a movie night, or the party to get started in the alfresco.
Come home to comfort.
With the MyAir app, you can cool or heat your place before you get home. MyAir is our premium smart air conditioning management system. With up to ten zones for individual room air flow control, everyone can have their room their way. In rooms where you need to maintain a steady temperature, like the nursery, there's the option to add smart temperature sensors.
With the ability to run your smart air system in only the rooms you are using, energy bills stay comfortable too.
Other things you can control with MyPlace.
MyPlace future-proofs your home. Its modular form allows you to add more items now, or in the future, the choice is yours. MyPlace gives you smart control over most 240-volt hard-wired items. Enhance your smart home by connecting more items and making those smart too!:
Motorised blinds
Electric windows & skylights
Electric gates
Water features
Outdoor strip heaters
Bring your home to life.
MyPlace has 6 on/off channels to give you smart control over your existing items, no matter where you are. It comes in modular form allowing you to add more modules now or in the future to create the smart home you want.
Be surprised by how easy it is to make your home smart.
Select an option below for the next steps.
New home build
Learn More
New home build
If you are building a new home and would like MyPlace:
Insist on MyPlace with your builder before signing a contract
Download a builders checklist here
Contact one of our partner builders here
Ask a MyTeam expert to speak to your builder
Call MyTeam
Contact MyTeam
Add to MyAir
Already have a MyAir air conditioning system and want to add smarts? MyPlace seamlessly integrates with MyAir or you can upgrade your e-zone system to turn your whole home into a smart home:
Request a quote here
Speak to a MyTeam expert
Call MyTeam
Contact MyTeam
Existing home
MyPlace can be easily integrated into existing single storey homes. It sits in line with your existing wiring making it straightforward for your electrician, or ours, to install:
Request a quote here
Speak to a MyTeam expert
Call MyTeam
Contact MyTeam
MyPlace Installation and support.
MyPlace is simple to install into your new or existing home. With no additional or specialist wiring required, your electrician can do it in no time. Our friendly MyTeam will even come and give you a free smart home demonstration and handover, to ensure you get the most out of your new smart home. And if you need after-sales support, we're locally-based and right here waiting to help.
Why choose MyPlace for your connected smart home?
Affordable
MyPlace works with your existing items and wiring, so it's affordable and easy to turn your current home into a smart home.
Useful
MyPlace is simple to use. It makes life more comfortable by giving you smart control over the things you use every day.
Australian owned and made
MyPlace smart home system is designed and made by Advantage Air, in Canning Vale, Western Australia. We are a proudly Australian technology company, committed to producing quality products. Being local, we're here whenever you need us.
Additional control
With the MyPlace app you can control your smart home system from wherever you are, using your smart phone and tablet. MyPlace also seamlessly integrates with smart home devices such as Google Home, Amazon Alexa and Siri, so you can use voice command too.