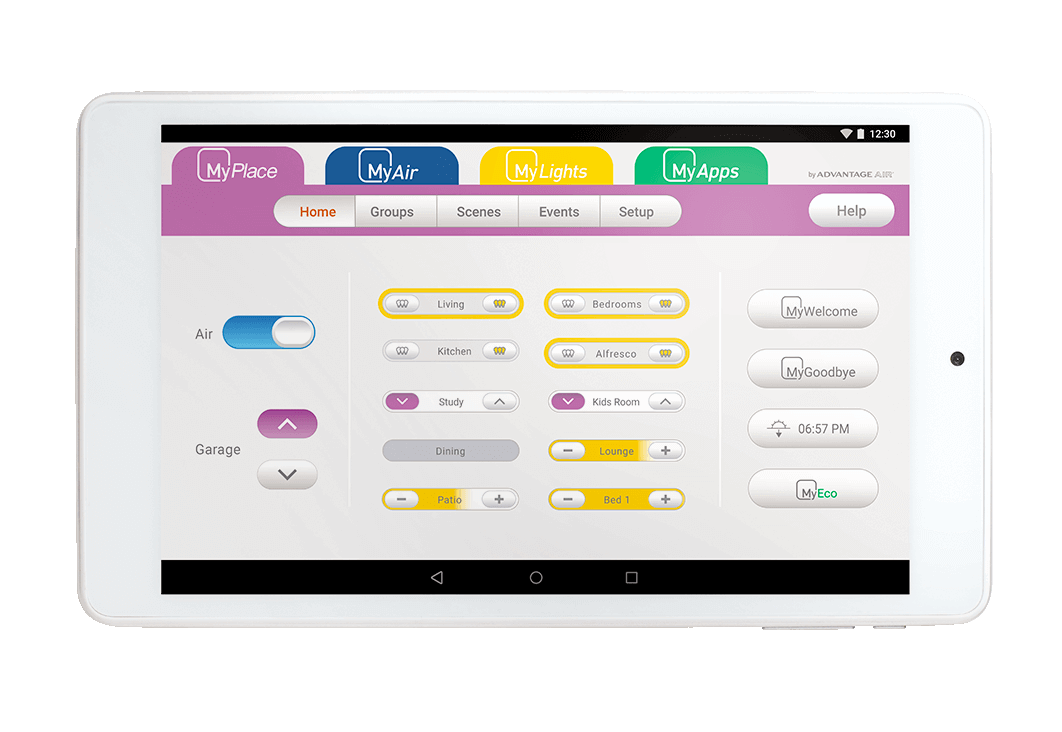 What our customers say about us.
Had a couple choices for automation and air conditioning in our new home. We made the best decision going with MyPlace absolutely love it and it's the first home that I can say the aircon has truly worked Our friends joke that they need to bring jumpers when they come and visit
Warren Ephron
I had an excellent experience with this company. Joshua made an appointment with me, was on time, rang to tell me he was on his way, and presented very well. He patiently explained the many options and add-ons that I can access using the MYPLACE app. He made some changes that will make my system more efficient and cost effective. I will use them again in future to add sensors to the lighting in our outdoor area and I will go to them first before other companies for anything to do with my smart system or air conditioning needs. I had no idea that they have so much to offer Great job Joshua!
Juanita Nanos
Andy was great! He found the issue with the zoning and didn't leave til it was all fixed and we were happy. He also found and rectified some other small issues that we had not realised. He took the time to make sure my wife and I were happy with the updates - Legend!!!
Mike and Megan Frizell
Cannot speak highly enough of the various staff members we have dealt with at Advantage Air. Ben, Kevin, Liam, Tyra and finally Josh who did the 'White Glove Handover', explaining the full potential of the control panel, plus more. Our interactions have been exceptional All our questions were addressed to our full satisfaction and each member was very personable and professional. Highly recommend this company with the knowledge that we will have their ongoing support.
Faye Ottley
I'm always impressed wit the amazing customer service I receive from Advantage Air. Prompt, reliable and very friendly. Even over the busy Christmas/New Year break! Mitch was really helpful in explaining things when he came out for a service call - very professional and friendly!
Donna Shumilin
Great functionality with simple programming. As an installer this product ticks all the boxes for home automation. Easy to install and great warranty and support to back up the product
Mitch Sweeting
We didn't know this service existed until we called tech support with a question. Such a great service. Josh was awesome to deal with, Very polite and professional, extensive knowledge on the systems and prompt service. Definitely recommended. Thanks Josh
Lyndsay Cook
Such an easy to use and reliable product, plus the best support in the industry. I would highly recommend the product, so much so that I have automated my whole house with MyPlace.
Daniel Chris annandelectrical
We have used Advantage Air equipment for many years now and the quality of the product is outstanding. Very user friendly followed up with a great team to deal with. Helpful service and would recommend the MyAir system to anyone who is looking to installing ducted air-conditioning.
Rohan McVeigh
I LOVE MYPLACE!!! I've had it installed in my house for a while now and I don't know how I would live without it! Pre and post sale service has been amazing, they even sent someone out to help me set all the scenes and events for my system. If you are thinking of making your home a 'smart home' don't go past the MyPlace/MyAir from Advantage Air!
Peter Mitchell
Brilliant. I've just finished dealing with a lady (Jess) she went over and above to help me in setting setting up my device she had to put up with me for half an hour but thanks to her I'm up and running.
Mark Sneddon
Absolutely loving the product. Josh was delightful and made the process super easy, couldn't recommend him or the company more.
Katherine
Very helpful customer service. I had an issue with my e-zone and the guys from Advantage Air help me understand what I was doing wrong, they gave me some tips on improving my use of it too. Thank you.
Shane
Lauren was amazing! She turned up when she said she would and was nothing but helpful. Lauren took the time to understand the problems we were experiencing, and went above and beyond to fix the MyAir issue as well as a number of problems left by the air con company who installed the unit. We couldn't have been more impressed by Lauren's knowledge and quality of support. Highly recommend.
Jessica Tate
After looking into this heavily as we are in an older house we decided to update our house to MyPlace. I must say the outcome is way better than I expected - it was definitely worth it. A massive issue for us was that we live on a corner block and could never remember if our garage door was closed - MyPlace sends us a notification to our phones if the garage door is left open!
H Muzz
Dan was very helpful with his knowledge of the MyPlace system for my aircon. He was also very helpful with the updates for it & showed me how to get the app on my phone so I can now turn it on & off remotely. Very happy with the service.
Chris Rawlinson
The best smart home products I have ever used. So simple to use and install. Feels great to be supporting an Australian company
Ty Fulton
Brilliant customer service and efficiency. Called into the Canning Vale shop for a part and the staff were so helpful and knowledgeable. Top marks for staff selection guys!!
Brenda Williamson
Fantastic app. has a ton more features than last year. reliable. get it now! EDIT: It's now 2021 and the app is even better!
Roy
Our team